By Guy Gregory
MCDC Communications Specialist
Who They Are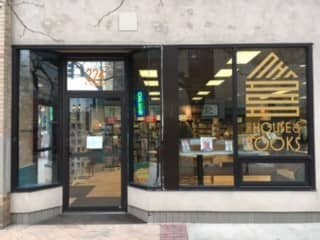 The cooperative business model seems to be the perfect fit for This House of Books, a business that has become a literary as well as a cultural hub for Billings and the region. Since the bookstore cooperative first opened its doors for business in 2016, they've seen a dramatic increase in membership from book enthusiasts. Many of those member-owners include renowned authors from across Montana and other states. Like any other cooperative, This House of Books is governed by a board of directors that are elected by their member-owners. A full-time general manager oversees the daily operations of the bookstore.
A Unique Bookstore & Cooperative
Julie Schultz was elected in 2018 to serve as Treasurer for This House of Books. She said interest in the bookstore continues to grow because of what they offer their members and customers. "I think any independent bookstore to be successful, you have to have something that sets you apart from the other larger bookstores," said Schultz. They offer a unique and wide selection of books written by authors from across Montana. She added, "A big part of that is we are a co-op and have members who are authors. So, we have these community-written books that you will not find on the shelf of any other bookstore." According to Schultz, This House of Books has become well-known by larger booksellers in the area. Schultz expressed that Barnes & Noble has sent local authors to their store who are trying to find a place to sell their books.
Sildenafil pills must never be used by men who are taking medicines that contain nitrates of any kind, at any time. Viagra is also known by its scientific name, Sildenafil citrate. Erectile dysfuntion is emotionally painful for most men. If you plan to use this medicine on demand, then 50mg dosage may be optimal for you. It is not a problem if man drinks a glass of wine or two with his partner before sex.
Offering a Literary & Cultural Experience
This House of Books offers more than books by local and regional authors. Schultz explained that they also host author readings and other cultural and literary events throughout the year. "Craig Johnson, who writes the Longmire Mystery Series, he's one of our member-authors, and he was just in the store a few weeks ago with his latest novel, 'Land of Wolves.' We also have Keith McCafferty. He's a western mystery novelist from Bozeman who comes to do a reading and book signing every year," said Schultz.
The bookstore co-op also hosts several poetry readings as well as panel discussions, in which local experts come to discuss various literary topics of interest. Schultz expressed, "We've found people love those. We've got the best attendance at our panel discussions." One of their most recent panel discussions focused on the life of English novelist Jane Austen. It was led by experts who have studied Austen's life and included "lively discussions, dramatic readings, film clips, and social dancing," according to the bookstore co-op's Facebook page.
Schultz said that the events provide a cultural experience for both members and prospective members. "Some people don't know we are a co-op until they come to these events, and when they do, they get more interested in the store and want to join and be a part of the co-op," explained Schultz.
The High Plains Book Fest is one of the largest events that This House of Books helps support with hosting author readings. The festival brings authors to Billings from eight American states and three Canadian provinces. "The High Plains Book Festival is our largest sales event of the year. It's an amazing event!" The festival takes place in Downtown Billings every October," expressed Schultz. The festival also includes an annual book writing contest covering multiple award categories. Danell Jones, a local author and member of This House of Books, recently won an award for the best nonfiction book at the festival, entitled: "An African in Imperial London: The Indomitable Life of A.B.C. Merriman-Labor." Another bookstore co-op author-member, Rod Gottula, also competed in the contest. Gottula's "Double! Not Half" won an award for the best children's book at the festival.
Growing Interest in Co-ops from Other Booksellers
"So, over the last 18 months, we have received fairly regular interest from other booksellers across the nation wanting to learn more about our co-op and the cooperative business model. Those interested have included established booksellers and people looking to start bookstores," said Schultz. She went on to explain that one of the established bookstores recently reached out to This House of Books for assistance on how to transform their private business into a cooperative. Schultz expressed, "It's great to see the surge in interest in this more community-invested model of business." She added, "There's a growing interest in wanting to support local business, and people are starting to understand the importance of putting money back into the local community."
Montana Co-ops Make a Difference: This House of Books from Montana Co-op Development Center on Vimeo.