By Guy Gregory
MCDC Communications Specialist
Last year, the Montana Cooperative Development Center established a training support network for general managers of start-up and fledgling grocery cooperatives across north central Montana. Called the "Rural Grocery Co-op Managers' Network", the group is supported by a generous, $16,500 grant from the Catholic Campaign for Human Development (CCHD), based in Washington, D.C.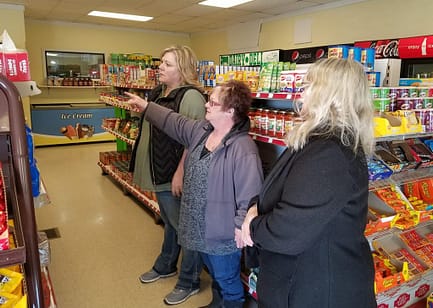 Managers from Montana's Rural Grocery Co-op Managers' Network hosted their second small grocery co-op tour. Fresh Start Cooperative General Manager Beth Lewis made the 464-mile round-trip from her store in Geraldine to be part of the event. She traveled with staff from the Montana Cooperative Development Center to two other small towns remotely located along Montana's "High-Line".
Managers first visited Big Flat Grocery in Turner, an unincorporated community of 61 people in Blaine County, not far from the Canadian border. Lewis and staff discussed the operations of the small grocery co-op that has successfully served the people of Turner for over 5 years. Big Flat Grocery General Manager Linda Hutton explained how distribution is one of the major challenges in keeping her co-op's shelves fully stocked with a diverse range of products.
As a result, slowing of blood flow to any organ can occur, even if the person does not suffer from obstruction of the veins. In the event that endothelial cells (they are responsible for the composition of the blood) reduce their function, a narrowing of the blood vessels occurs which leads to venous congestion. This explains the relationship of blood vessel diseases with impotence.
The network of managers all seem to agree that living in small towns across the frontier severely limit their options of distributors.
After comparing notes on store layouts, the managers got back on the highway and took over an hour and half drive south to Lodge Pole, a town of 265 people living on the Fort Belknap Indian Reservation. They visited Red Paint Creek Trading Post & Pantry, one of Montana's newest rural grocery co-ops. The co-op first opened its doors for business in June 2018. The store has managed to keep its shelves regularly well stocked with a variety of products despite the challenges of working with a limited number of distributors.
In addition to the co-op tours, managers have met three times for training and to compare notes on the challenges of operating their small stores. "If one of us is having an issue, we can learn from the other managers on how to solve the issue," says Fresh Start Co-op General Manager Beth Lewis. Fresh Start first opened for business in 2017. She explained that belonging to the network enables her to "learn how the others manage their stores" and added, "So far, our meetings have generated many new ideas. These training sessions have helped me better understand the financial part of running the co-op business".