By Guy Gregory
MCDC Communications Specialist
Fifty-one participants from 25 member cooperatives were represented at the 59th Annual Meeting of the Montana Council of Cooperatives, which was held in Helena January 14-15, 2019. Generous sponsors of this year's annual meeting and Legislative Dinner were: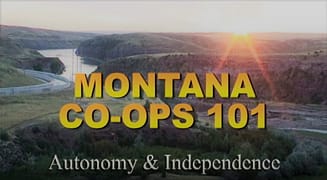 The annual meeting began on Monday with a premiere showing of "Autonomy & Independence", the fifth video in the "Montana Co-ops 101" Educational Series. This video features MCOC member co-op leaders discussing how co-ops must maintain their autonomy when entering into business agreements or in raising capital from external sources.
Following the video presentation Ryan Hall, Communications Director for the Montana Electric Cooperatives' Association (MECA), discussed how social media is changing the game in public relations. Hall advised MCOC members on how to properly respond to events that unfold on social media sites in an effort to ensure their co-ops are presented in a positive light.
MCDC Executive Director Janice Brown then updated the audience about new cooperative initiatives in Montana. Brown highlighted several types of cooperatives that have developed in recent years across all industry sectors. She provided the latest news about producer-oriented agriculture co-ops, artisan, retail service, and worker cooperatives as well as the very first housing and rural investment cooperatives to incorporate in the state.
Members received more information about these new co-op models from panelists Emily Dean, President of The Original Montana Club Cooperative Association; Paul Travitz, President of the Riverside Crossing Adult Cottage Cooperative; and Wendy Beye, Secretary of the Musselshell Rural Investment Cooperative. Julie Foster, Executive Director of the Ravalli County Economic Development Authority, told the story of how the Bitterroot Hemp Cooperative become the first of its kind to incorporate in Montana.
MCDC Program Director Marilyn Besich then discussed the growing number of rural grocery cooperatives now operating in several small Montana towns. With the help of MCDC, the managers of these rural grocery co-ops are now able to meet regularly for training and are addressing the challenges in operating their stores.
The first day of the event concluded with a reception at The Original Montana Club. Participants rode a complimentary shuttle to the club in downtown Helena where they enjoyed free appetizers during the no-host cocktail hour. Original Montana Club President Emily Dean, with the help of the local historical society, gave members guided tours explaining the history of the 115-year old, six-story building.