By Guy Gregory
MCDC Communications Specialist
---
Cooperative leaders were welcomed into several Montana schools this fall to engage directly with youth as part of the ongoing Montana Cooperative Impact Project, funded by a CHS Foundation Cooperative Education Grant. Three separate "Cooperative Impact Weeks" featured interactive activities, career-oriented dialogue and informative presentations focused on the significant impact co-ops have made on their regional economies. Young people learned about co-op history, co-op structure, and board governance as they gained insights on the many co-op career opportunities available.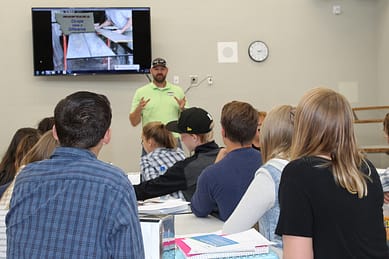 Employees from co-op utilities, credit unions, and farm supply co-ops visited White Sulphur Springs High School on September 11 to discuss what job skills were most needed at their local businesses. The next day, students at Sweet Grass County High School in Big Timber heard how Crucible owners Tyson Holland and Phil Munson are designing and building unique furniture pieces as a worker cooperative. A career fair followed the student assembly where staff from local co-ops discussed job opportunities at their cooperatives. Cooperatives participating in these educational events included Triangle Communications, Vocal Credit Union, Sky Federal Credit Union, Fergus Electric Cooperative, and Park Electric Cooperative
Cooperative Impact Day was celebrated at MSU-Billings City College on September 24. MCDC Program Director Marilyn Besich presented the fundamentals of the cooperative business model to business students at a campus forum. The students learned how a co-op is legally structured, governed and operated in Montana. Besich later answered questions from students interested in learning more about the cooperative business model.
Local co-op leaders were invited to Lincoln County High School (Eureka) on October 24 and joined MCDC for a full day of interactive events with students. Lincoln County High School Principal Joel Graves said, "It surprising that many students don't know what a co-op is." Representatives from InterBel Telephone Cooperative, Lincoln Electric Co-op, and Whitefish Credit Union all hosted separated presentations about their respective co-ops.
Following the presentations, students gathered in working groups and applied what they learned to develop mock co-op businesses. They were then tasked to show how their mock co-ops could help provide services to meet a community need in Eureka. "Talking with some of the students involved in the interactive sessions, I felt they came away with a better understanding of what a co-op is and how it can benefit us all," said Graves. Lincoln County High School English Teacher, Latimer Hoke added "The event helped my students gain an enhanced appreciation for what co-op businesses do for them."

On October 25th, Flathead Valley Community College and Montana West Economic Development, in Kalispell, co-hosted a free "Co-op Forum" for students and the general public. The featured guest speaker was Paul Travitz of the Riverside Crossing Adult Cottage Cooperative in Hamilton who highlighted construction progress on Montana's first housing co-op. Also presenting were representatives from Mountain Brook Craft Cooperative, Park Side and Whitefish credit unions, Flathead Electric Cooperative, InterBel Telephone Cooperative, CHS Mountain West and Bigfork Farmers' Market. All spoke about the services they provide their members as well as the economic impact they have made on their communities.