By Guy Gregory, MCDC Communications Specialist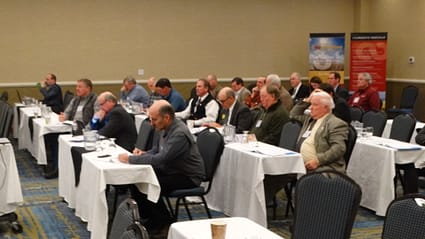 MCOC had 18 cooperatives represented at the 57th Annual Meeting in Helena on January 9 – 10, 2017 at the Radisson Colonial Hotel. Over 40 members were in attendance at the meeting and the legislative dinner and dance served over 110 people which included the MCOC membership, board of directors, legislators and their guests.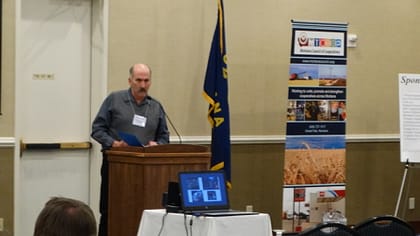 MCOC President Ben Boreson addresses members attending the 57th Annual Meeting

Montana Speaker of the House Austin Knudsen, R-Culbertson,
addresses MCOC members during a luncheon.
MCOC board officers at the Annual Meeting
(seated left to right: Vice President Clarence Keller, Secretary/Treasurer Dave Kelsey,
and President Ben Boreson).
Governor Steve Bullock's Budget Director Dan Villa speaks to MCOC members.
At the conclusion of the annual meeting, MCOC Board Members elected new officers for 2017.

Clarence Keller (standing at the podium) was elected President. Ben Boreson (seated on the right)
was elected Vice President and Dave Kelsey (seated on the left) was reelected to another term
as Secretary/Treasurer.
MCOC members enjoy an evening meal together with their legislators during the Council's Legislative Dinner & Dance that followed the conclusion of the Annual Meeting.